The Recruiting Sergeant, Yaxley
The Recruiting Sergeant, Yaxley
'The Recruiting Sergeant' is another public house associated with George Rowell and his family.
This picture was taken around 1925-1945.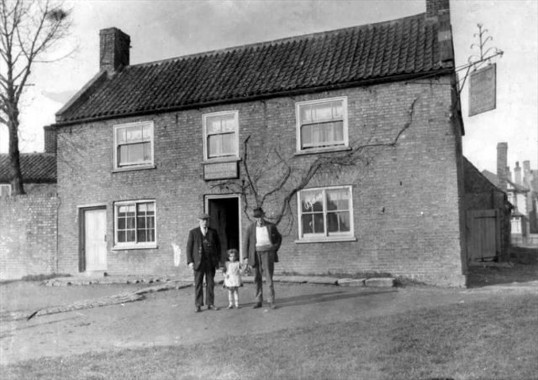 Members of the Strickland/Rowell family are shown in front of the pub.
"Information given by Jack Beeby"
A Mowbrays of Grantham Brewery House now closed, this once public house stands on the edge of Yaxley Village Green. Landlord and Landlady was Mr and Mrs Roland Strickson, after the retirement of Mr Strickson (who carried on with the help of his daughter Betty and Miss Ann Charlton after his wife died) Mr Tom Glithero became Landlord until its closure in the nineteen sixties.
Mr Strickson's family had run the public house for over one hundred years. An earlier generation had also been saddle and harness makers in premises between The Rope Walk and Mr John Ireson's builders premises on the corner of Askews Lane, this property also had an orchard to the rear which ran down to Yards End Dyke.
At the rear of the Recruiting Sergeant was a saddle/harness making shop operated by Mr George Strickson. In 1830 the landlord of the Recruiting Sergeant was Edward Wyman. By 1872 the pub was owned by George Hunt of Stamford. By 1920 the landlord was Rowell Strickson.
Other landlords were: Benjamin Derriss, George Rowell, Ann Rowell, George Strickson and Thomas Glithero.
1869/G Rowell/../../../Post Office Directory ****
1898/George Strickson/../../../Kelly's Directory ****
1903/George Strickson/../../../Kelly's Directory ****
1910/George Strickson/../../../Kelly's Directory ****
The iron bracket that supported the pub sign is still attached to the building.
http://www.closedpubs.co.uk/huntingdonshire/yaxley.html
Publican in 1914 was George Strickson.